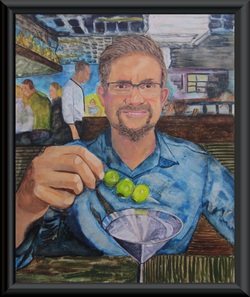 David Woodward is an artist living in South Florida where he has resided most of his life. He is an active member of the Palm Beach Watercolor Society and with ArtsUnited in Broward County, Florida. His works have won awards and have been placed in collections around the United States and Canada. His imaginative landscapes express the sense of fantasy, escape, and detachment that comes from living in Florida, and painting in Hawaii, California and Europe. He also specializes in both animal and human portraits.
Having studied in oils for over 20 years, more recently he has developed a style using watercolors on Yupo paper with the "Yupo Princess," artist Carol Ann Sherman in Delray Beach. The new work is exciting and vibrant and very colorful. So paintings are offered in both watercolors and oils.

If you would like to acquire a painting or discuss a commission please visit the Contact page.


---